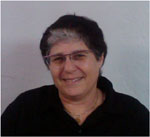 Jean Zeeb
Areas of Expertise
In addition to helping people with mood disorders (anxiety, depression, stress, etc.), Jean Zeeb also works with people with general life problems (lack of assertiveness, work conflicts, grief and loss,  etc.) find a more fulfilling life.  Specific areas of expertise for which she has more in-depth training and experience include:
---
Jean Zeeb is an eminently qualified sexual abuse therapist and specializes in proactively working with people who were sexually abused as children and also working with couples where one or both partners were sexually abused, and where that abuse presents symptoms that disrupt the couple's bond.

Also, Jean Zeeb works with people who have sexually abused others, both adolescents and adults.  Additionally, she works with the family members and significant others who seek to understand the dynamics of sexually abusive behavior and protect themselves and others from such abuse.
---
Jean Zeeb also works with people who abuse or are addicted to alcohol or other  substances; as well as those who engage in addictive behaviors, including compulsive sexuality, gambling, on-line gaming, self-harming behaviors, eating behaviors, etc.
---
Jean Zeeb specializes in working with teenagers who are dealing with questions related to their development such as school adjustment, dealing with peers, sexual questions, dealing with romantic partners, concerns about friends, planning for the future, keeping peace within the family, etc.
---
Another focus of Jean Zeeb's work is helping parents develop sound parenting practices based on the age and development of their children.  Jean Zeeb has particular expertise in helping parents of teenagers, whether the teens have particularized behavior problems or not.
---
Couples and Relationships Counseling

Jean Zeeb helps intimate partners or other bonded people (friends, work groups, etc.) resolve their conflicts and achieve greater harmony and happiness in their relationships.
---
Sexuality and Sexual Identity Counseling

Jean Zeeb works with people who are questioning their sexual performance, practices, feelings, orientation, and identity.  Additionally Jean Zeeb works with couples who seek to improve their sexual intimacy with one another.
---
Personal and Spirituality Counseling

Jean Zeeb works with those seeking to establish a more fulfilling life.  The focus in this type of therapy involves helping one gain an understanding of one's self (insight) and developing satisfying relationships with one's self, one's intimates, other important people, society as a whole, and one's inner spiritual life.

Back to Areas of Expertise
Back to Top

---